**Notice: this post was begun on July 26. What happened was, I couldn't think of any subject-matter for buttons after the North & South one. I just now finished with the last two buttons. So yeah. I'm basically the queen of procrastinators**
Ladies and gentlemen, this is a very special day. Why is it a special day, you ask? Because, my dear, thanks to
Miss Rosamund Gregory,
I HAVE LEARNED HOW TO MAKE BLOG BUTTONS. Now you may rejoice.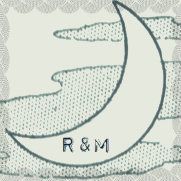 I didn't put the code box because this isn't an official R&M button. But I think it is rather cute. :)
Are you done rejoicing? Good. I must tell you, if you've never made a blog button, get thee to
Rosamund's tutorial
and learn how. You needn't be scared. It's actually very easy.
Now, I probably won't have an official button for my blog for a while yet, because, you see, it has to be
just so
. But in the meantime, I've made a couple fun little things, just to get the hang of it.